This month I thought you'd enjoy reading about a shop with a whole lot of love. Just in time for Valentine's Day and planning a June wedding,
ScrappySeahorse
has so much to choose from. Now let's get to know the owner, Megan!
Etsy Paper: Tell us a little about yourself.
Scrappy Seahorse: My Name is Megan Cichorz and I live in a tiny rural community called Pantego, NC. It is about an hour from the Outer banks one direction and an hour from Greenville in the other. I live here with my wonderful hubby, 4 great kids, 4 chickens, 2 cats, 1 dog, 1 fish, and 1 tortoise.
Etsy Paper:
When did you open your shop on Etsy?
Scrappy Seahorse:
The idea of starting my own art/craft business has been a lifelong dream that grew into a beginning concept a few years ago, before I had ever heard of Etsy. I went the route of taking some formal studies in Art and Design at East Carolina University and dabbled with a few craft shows. Then this past year I hit a few milestones: I turned 40, celebrated my 20th anniversary, and began designing my oldest daughter's upcoming wedding. In the midst of all the wedding planning a lightbulb went off in my head and within a few weeks Scrappy Seahorse Designs officially opened. That was June of 2014.
Etsy Paper:
Tell us about your shop.
Scrappy Seahorse:
My shop focuses on what I call truly handmade paper goods and accessories for weddings and celebrations. I stress the 'truly handmade" because my work stands apart from mass printed/purely digital work that you usually find in the wedding world. Each of my pieces or invitations goes through my hands with every cut, punch, brush stroke, stamp, and ribbon tie. This gives my invitations, guest books, journals, etc. a really one-of-a-kind qualit
y, which I think every bride wants for her special day.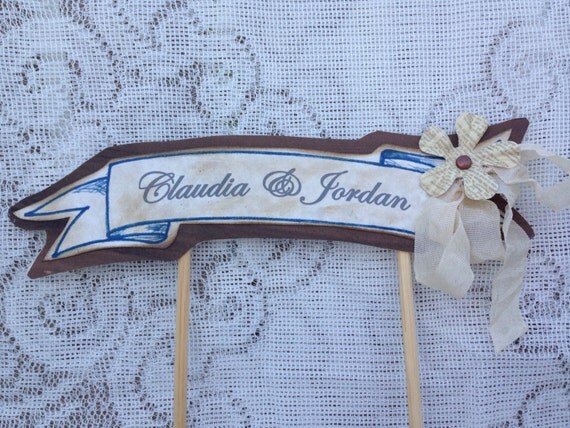 Cake Topper
Etsy Paper:
Do you have a special place for your crafting, or does the kitchen table do double duty?
Scrappy Seahorse:
The shop started out in boxes and bins, then a table in my bedroom, and now it has ultimately become a full studio in what was our homeschool room. So now school takes over the kitchen table instead of my work.
Etsy Paper:
Are you a clean or messy crafter?
Scrappy Seahorse:
My kids just remarked the other day how I am a bit of a clean freak about the house, but a total mess in my craft room. I am huge multi-tasker so I have lists, scraps, projects, and half-done design concepts everywhere. I think of it as creative chaos.
Etsy Paper:
When your creativity gets clogged, what do you do or where do you go to get inspired and create again?
Scrappy Seahorse:
With weddings it is easy because there is a constant seasonal change with magazines and blogs to pull from. Plus, each bride has her own unique vision and ideas that I get to work off of.
I also get lots of ideas from my scraps. I may do an invitation and have 100 pieces of cut off paper that are the same size and shape. Those scraps will become a bookmark, or a set of favor tags, or maybe a new embellishment . Waste Not, Want not.
Etsy Paper: W
here do you feel at peace, free from all the pressure of family and work?
Scrappy Seahorse:
Well, the cool thing about my shop is I get to be home with my family and this "work" is not work to me at all. My craft room is my peaceful haven.
Etsy Paper:
What is your favorite item to make, the one that makes you smile just thinking about working on it?
Scrappy Seahorse:
My favorite item to make is my wedding invitations. I love getting to convo the brides on every little detail, so we can create something that fits their vision for their Big Day. It is fun to make something that gives someone such joy. My Scrappy Seahorse brides are always so cute, because who isn't full of excitement when choosing things for their wedding day.
Etsy Paper:
Why do you do what you do?
Scrappy Seahorse:
Art has always been a huge part of who I am, but back in college I chose a career in nursing out of practicality. That job has been great and provided well over the years, but throughout my nursing career I have always pursued my art on the side. My favorite saying was always "I want to be an artist when I grow up." So, with all of my milestones from this past year, I decided that this was a great time to work on my grown-up goal. The great thing is… now I can say…" Hi. I am Megan Cichorz, a wife, mother, homeschooler, and now owner/artist/designer at Scrappy Seahorse Designs."
Megan sure does have a lot on her plate, so inspirational. Her shop,
www.etsy.com/shop/ScrappySeahorse, has the perfect mix of vintage-inspired, rustic, feminine, and modern.