TiramisuPaperie has a variety of items including printable items, pillows, and rubber stamps. It has a modern look with a touch of vintage styles and humor. When I saw the Tooth Fairy Receipts, I knew I had to interview the owner, Lisa.
Etsy Paper: Tell us a little about yourself.
Lisa: Greetings! I am Lisa Sarmento, owner and creator of
Tiramisu Paperie
! I am located in Nashville, Tennessee with my husband and we have one child. I have been in the design industry for many moons and having this type of shop was a natural progression for me. I started out in Advertising back in the mid 90's as a designer and designed my way to where I am today. I have a BFA in Studio Art and MFA in Graphic Design. In addition to Tiramisu Paperie, I freelance as a designer and teach Graphic Design at The Art Institute of Tennessee-Nashville.
Etsy Paper:
When did you open your shop on Etsy?
Lisa:
I opened my Etsy Shop in 2010 and had a few changes from when I started. My first shop was Lisa Marie Invitations and Design. I just didn't plan it out and went both feet in. Then after some thinking I realized it was not me, I changed my name and gave myself a brand over haul and TIRAMISU PAPERIE was born.
Etsy Paper:
Tell us about your shop.
Lisa:
Tiramisu Paperie is a paper good and gift shop that has one purpose and that is lift someone's spirit. In Italian tiramisu means "a little pick me up" and well we all know it is a delish dessert too. I started out selling notecards and little enclosure cards but knew it needed to more than that, so I added pillows, notepads, totes and more. Each product has a sarcastic touch and honest feel that is a lot like me.
Etsy Paper:
What is it about paper that draws you to create with it?
Lisa:
I love paper! Its tangible and unlike digital it is final. Because I teach Graphic Design I tell my students that paper can add a layer of magic to their work. The paper's texture can give an idea more depth and tell more of the story. I constantly hear "print is dead", and I laugh because the person who says that obviously doesn't want a birthday card.
Etsy Paper:
Are you a clean or messy crafter?
Lisa:
I am a VERY MESSY crafter. My workspace is a total mess but yet I know where most things are, it drives my husband nuts. I have little pockets of messes in each corner, my desk looks like an explosion and I have additional messes throughout my house. I have completely taken over the front living room of our house to spread out.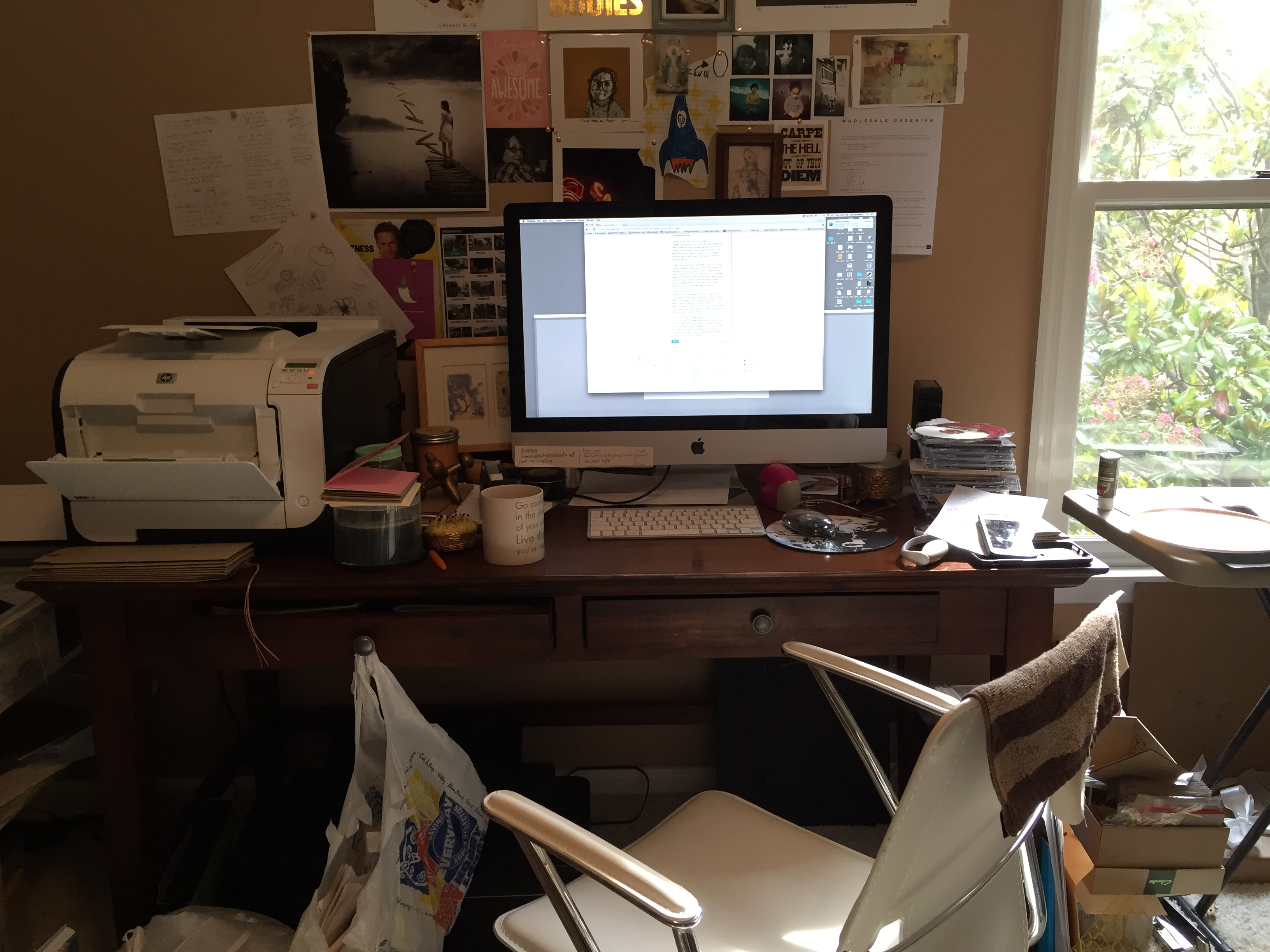 Workspace
Etsy Paper:
When your creativity gets blocked/clogged, what do you do or where do you go to get inspired and create again?
Lisa:
I get blocked from time to time, everyone does. In order to get this wall of bricks in my brain down I work out. People look at me strange but it works, in addition to this, I teach Zumba twice a week to get me in shape and inspire me as well. This works a different part of my brain and I let the endorphins do their thing which makes me happy. More ideas come when I am driving home from those classes.
Etsy Paper:
What do you have on while you're creating, if anything, and is it tuned to something specific?
Lisa:
When the time comes to create I always have on music! Its a strange range of music trust me, some days is Latin music, others may be Louis Prima and Edith Piaf, then sometimes its Old School Hip Hop to Florence and the Machine. Then the one person who gets me in my groove is Stevie Ray Vaughn. Told you it was a range.
Etsy Paper:
What inspires you?
Lisa:
Letterpress type, all type really. Andy Warhol illustrations, Edgar Degas, old movies, memories of my grandmothers, my childhood, dancing, my son, art galleries, office supplies, paper, screen printing process, Man-Ray, Diane Arbus, 1940's, anything Italian!
Etsy Paper:
Why do you do what you do?
Lisa:
I have to create first and foremost. I am a maker and a doer, I just can't sit and tell someone what to do. I have known since about 14 years old that I wanted a life that evolved art in some way. My step father was an interior designer and had all these graphic design supplies from college. I would just take them and make things left and right, drove him nuts when he couldn't find them. There is connections to put ideas on to paper and seeing them come to birth. I do this with my paintings, my type, my pillow and more.
Then the other reason is because I want to make someone smile. Pretty simple I know, but a few years back I lost my mom and my grandmother within a few months of each other and I was crushed. These women raised me to who I am today and my pain was deep. All I wanted to do after that is smile again, have a little laugh and not cry for one day. So I decided that was going to be my mission for others who have had bad days, devastating blows and loss that crushed their spirits to make them smile again!
Etsy Paper:
Who is your biggest fan?
Lisa:
My family and friends. They have been amazing, especially my aunt Vickie who has been a huge cheerleader. When I do craft shows she usually goes with me and of course my husband. He wants to see me grow this to something larger. I think he wants to be a stay at home dad. And my friends Kristen, Christina, Susanna and Alleyne. They are my loudest cheerleaders and best sounding board of advice! Love them!
Wow, surely Lisa stays busy. I love how honest she is about her workspace, I can relate. Browse her shop and read more about her here.