Member Spot Light, SilvaWare.
Alright ladies, step aside, we have a highly-talented man coming through.
Please welcome Walter Silva!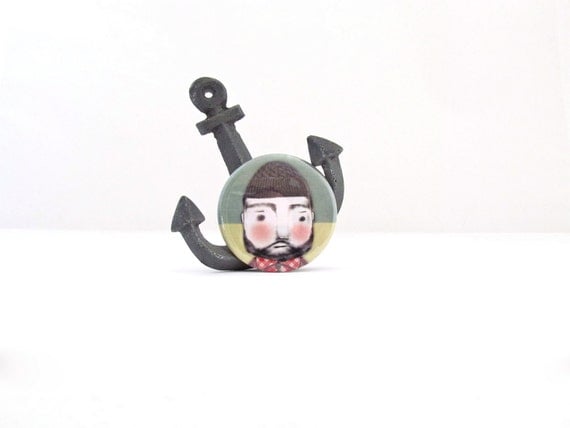 Fisherman Pin or Magnet
Etsy Paper: Tell us a little about yourself.
Walter: I'm a freelance Artist / illustrator and DIY guy living in Providence, RI. I work from home in a spare room.
Etsy Paper: When did you open your shop on Etsy?
Walter: In June it will be 5 years.
www.etsy.com/shop/WalterSilva
Etsy Paper: Tell us about your shop.
Walter: My shop items are a reflection of what I like to make aside from illustrating. I love the art of decoupage. I provide DIY Tutorials for many blogs like modpodgerocksblog.com/ > Podgy People > Contributors > Man Podgers
In my shop I offer personalized items, like Boxes, Frames and Magnets. I make my own papers. Also offer some Art assemblages, which I love creating.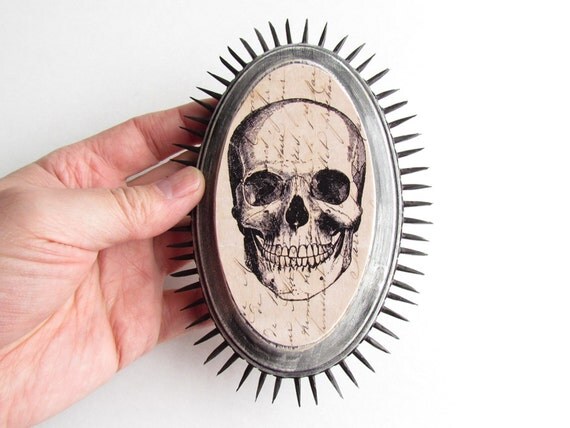 Wall Art
Etsy Paper: Name top (3-5) items (for crafting purposes) that you cannot live without.
Walter:
• Papers, all sorts... Handmade, scrap-booking, Maps and ephemera.
• Any Mod Podge
• Golden and Folk Art Paints
• My Cuttlebug
• Dies for the Cuttlebug (I love using these shapes in my Fine ART Collages.)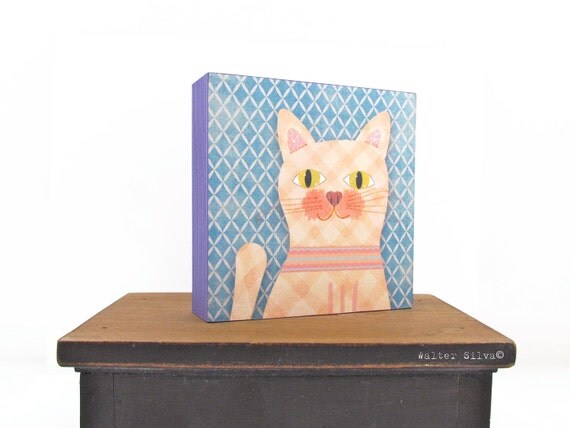 Cat Art Panel
Etsy Paper: What inspires you?
Walter: Good question, a lot! Trips to Antique Malls, Walks at the park, coffee shops my vintage fisher price pull toy collection! And visiting Brimfield! Brimfield Massachusetts is the site of the largest outdoor antique show in New England, with over 5000 dealers from all over the country. I have spotted some famous celebs there like Martha Stewart, Ralph Lauren, HGTV and many bloggers. It's impossible to see it all, I am lucky if I see 1/16th of the show. Exhausting but so inspiring!
More info here:
www.brimfield.com/
Etsy Paper: What is it about paper that draws you to create with it?
Walter: The feel and look of paper is just mind blowing. You can draw on it, paint on it, fold it and use it to decoupage. Make Cards, Art, sculpt and collage... Just endless opportunities! I love using found pieces too, like when I walk at the park. You never know what you will find on the ground.
Etsy Paper: Is there something that you've never tried with paper that you'd like to try?
Walter: Yes! I love quilts and want to make some using papers that I have collected. And, I will be incorporating some drawing too. And, this is where the Cuttlebug comes in handy, I can cut out shapes of papers that I have and sew them up.
Photo example from a Graffitti Artist Walter admires.


Etsy Paper: When do you find/make time for your crafting?
Walter: My artistic senses are on all the time, I am practically always seeing things in an artistic way, constantly observing. I find that I am mostly "On Full throttle" in the late evening when its quiet.
Etsy Paper: How did your shop get its name?
Walter: I was enrolled in a illustration class at Rhode Island School of Design and asked my classmates for suggestions and they were all excited to help and Voila SILVA WARE was born. Never be shy to ask for help or suggestions.
Etsy Paper: What has been your most successful marketing technique to date?
Walter: Not sure? I get some free shout outs from my Facebook, Tutorials, twitter, in the beginning have paid some bloggers (do not suggest this), word of mouth. It all takes time, every year the business grows.
Pill Box
Etsy Paper: What is your favorite thing about Etsy?
Walter: I love selling my Art and Crafts! It blows my mind that I sell all over the world! I just recently had my first in state sale, I was so excited! What took so long, LOL!
Walter leaves us with these kind words:
Good luck to all! Remember to "do what you love and $$$ will follow"
Keep in touch with me here:
Walter Silva
Illustrator
waltersilvaart.blogspot.com
www.pinterest.com/waltersilva/
twitter.com/WalterSilvaArt
www.facebook.com/SilvaWare
silvaware.bigcartel.com/
society6.com/waltersilva
WOW! I am amazed at the variety of items in his shop. Anything from cute to scary to vintage, I love that. I am delighted to have been able to share one of the many talents on the Etsy Paper Team with you.
Until next time,
Jenni
Etsy Paper Team,
Captain