I never
realized old stamps can still be used as long as the amounts on them add up to the new requirements. What a beautiful idea Patrick had in creating the most gorgeous stamped envelopes to buy and use.
Patrick also had another great idea when he decided to reply to my interview in the form of a letter.
The letter offers a peek in to the kind, sentimental person he is.
Dear Etsy Paper Lovers,
I live in beautiful Minneapolis, Minnesota with my husband, Scott and our little red fish, Ruby. We have about a foot of snow on the ground as I look out my window.
My wedding inspired me to open my shop in 2012. I wanted to pay homage to my stamp-collecting grandfather, so I decorated our wedding cake with colorful bunting I made using old stamps from his collection. You can see the stamp cake in our wedding film here:
vimeo.com/27956172
In addition, I discovered that old stamps are still valid as postage as long as they all add up to the current mailing rate. So I began to scour local "mom & pop" stamp collecting shops for colorful vintage stamps for our wedding invitations. They were a huge hit. For certain guests, I used specific stamps I knew would have meaning for them. For example, my dad is a pilot, so I used all airplane stamps. My aunt rides horses, so I used all horse stamps on hers, etc.
The more time I spent with stamps, the more I became addicted to these tiny pieces of art and began to curate a large collection of my own. But unlike Grandpa who kept his buried in thick catalogs and dusty boxes deep inside his study, I wanted to share my vintage stamps, dispatching them through the postal system and beyond. Grandpa explored the world through his stamps but I wanted to share my stamps with the world so that other people would be inspired to send mail and keep our postal system alive.
The internet, for all its efficiency and convenience, has made communication something you cannot touch, cling to, keep, and pass down. When is the last time you received a thoughtful hand-written letter, a tactile note or a party invitation in your physical mailbox?
Postage is a beautiful but dying art form. Our mailboxes have been relegated to the status of junk depositories and checking the mail has become a chore rather than the adventure it once was, fueled by anticipation. With my shop, I want to help change all this in my own little way.
Regards from The Land of 10,000 Lakes,
Patrick
P.S
People often ask about my shop's name, which also stems from my wedding. All of our wedding flowers were chosen not only for their symbolism, but also for the role they play in various films (I'm a film major and we are huge movie buffs). One of the flowers - our boutineers - was edelweiss, an alpine flower made world-famous by Roger's and Hammerstien's haunting ballad in 'The Sound of Music'. Edelweiss symbolizes our common Bavarian ancestry and is also a symbol of courage and male fidelity. Suitors had to brave the treacherous Alps in search of this rare flower which only grows high in the mountains, as proof of their devotion, often at the cost of their lives.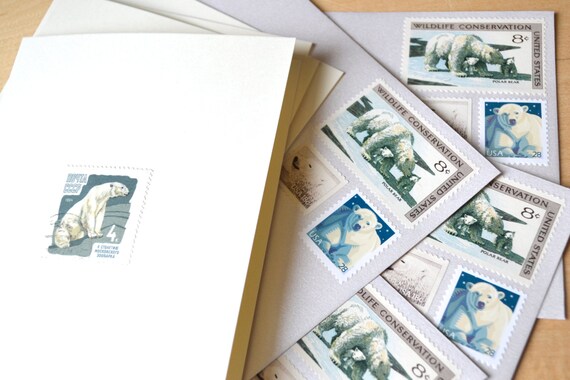 Polar Bear Stationery
As you can see Patrick is creative and seems to have a heart of gold. What a gorgeous shop!
There's no better time to pick up the pen and start writing letters again.