This month I want to introduce you to an Etsy shop that is filled with unique children's finds. I want you to welcome Abby from AbbyDoraDesign.
Etsy Paper: Tell us a little about yourself.
Abby: Hi all! I'm Abby Dening and I'm an artist and book designer living and working in Rochester, NY. I share a home with my husband, Dennis. When I'm not creating art or running AbbyDora Design I find myself in the kitchen cooking and baking—a specialty of mine are Blueberry Orange Scones. To reenergize, I practice yoga, hike, and enjoy listening to live Blues music. My husband and I are even known to do a little East Coast style swing dancing, too.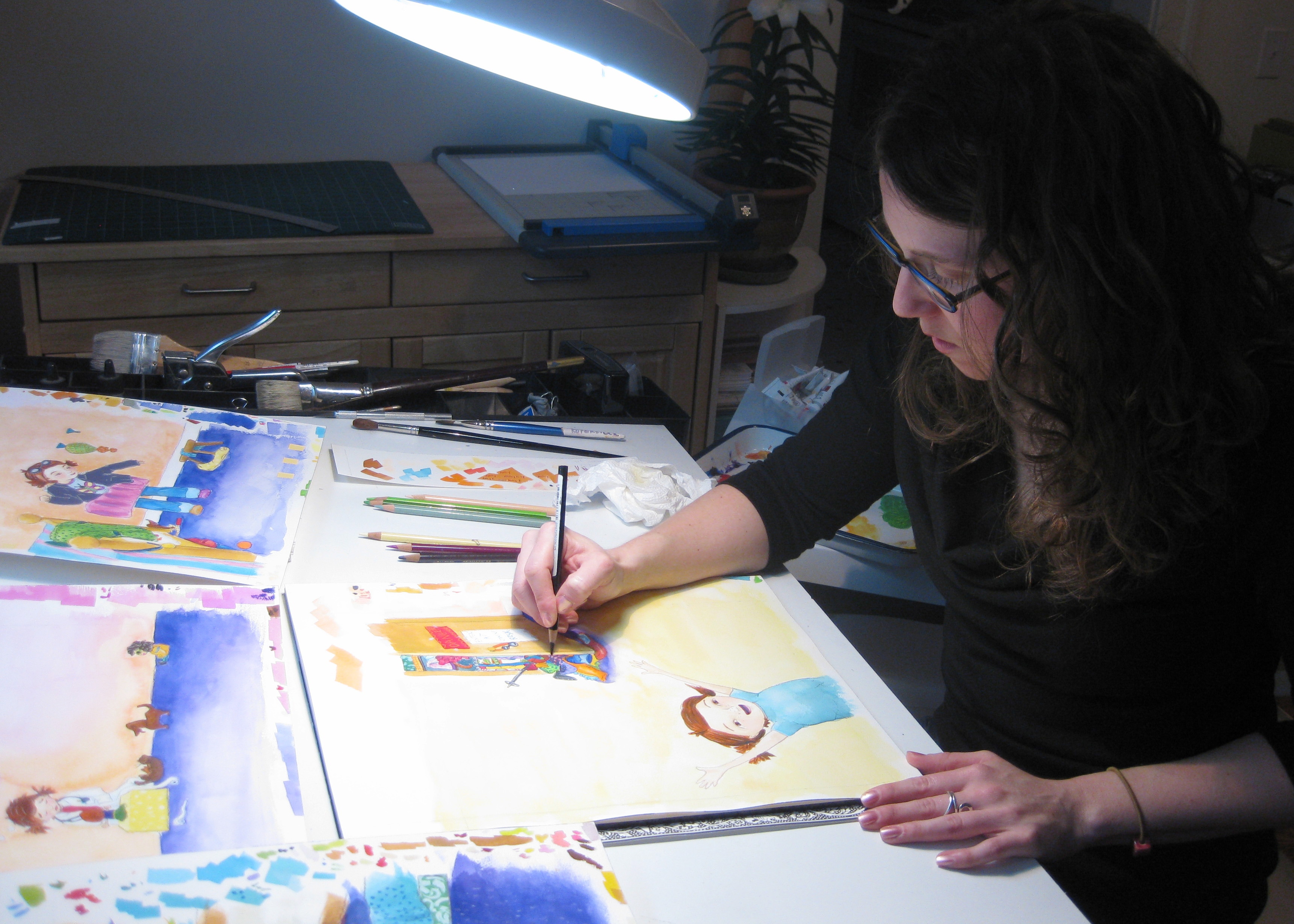 Abby
Etsy Paper:
When did you open your shop on Etsy?
Abby:
I opened my shop in the Fall of 2010 in time for the holiday season with a few cards and prints.
Etsy Paper:
Tell us about your shop.
Abby:
AbbyDora Design's artwork and paper goods are directed toward children and the young at heart. There's a playful touch to my paintings, art prints, and handmade cards.
A large portion of my shop features high-quality art prints of my children's illustrations. My paintings are created by combining watercolor and gouache paints with colored pencil. I aim to create images that draw you in and tell a story. To mention a few pieces, if you peak in my Etsy Shop you'll find: 5 Little Speckled Frogs, a Cake Baker decorating a GIANT pink cake, and a Mama Giraffe standing in the middle of the alphabet nibbling on the letter G.
Quality is important to me. My reproduction art prints are produced on digital watercolor paper, so they retain the intensity of color and texture of the original paintings. I offer a variety of sizes of prints. I welcome custom orders as well.
I also sell handmade baby cards, holiday cards, and thank you notes that feature either my own mixed media artwork or my graphic silk-screen style, which emphasizes shape and color.
I create, print, and assemble all paper products myself in my studio. I like to say that I'm the Creative Director, Artist, and Chief Paper Cutter.
Etsy Paper:
What inspires you?
Abby:
A good story. I love stories—written stories, verbal stories, or visual stories. I also find all sorts of inspiration from songs, and nursery rhymes, nature, my own childhood memories, interacting with family and friends, and being observant in my daily life.
Etsy Paper:
What is it about paper that draws you to create with it?
Abby:
The physicality of the paper and its texture, especially. Most of my artwork is created on cold press watercolor paper with Windsor & Newton gouache and watercolor paints. I find joy in filling my paintbrush with pigment and pulling it across the rough cold pressed paper. There's a subtle tug of the bristles on the paper that connects me directly with the painting.
Etsy Paper:
Do you have a special space for your crafting, or does the kitchen table do double duty?
Abby:
Yes, I have a studio at last! My space is large enough for half of it to house my painting table and art supplies and the other half to be for my computer area. My art table faces a large window, so the studio gets wonderful natural light. When creativity hits me I get obsessed with seeing my idea come to life on paper, so my studio gets very messy. Imagine stacks of colored paper sheets, photos, sketches, and tracing paper scraps all over my painting table. There will be groups of colored pencils and brushes placed around my watercolor block painting, too. Amazingly, in all the chaos, I'm able to find what I need to make a painting. It's a very fun process.
The other half of my studio accommodates shelves for different papers/envelopes and a desk for my computer, scanner, and Epson printer. When I started my company I knew I needed a permanent space to work and to separate my business life from my personal life. I spend the day in my studio (taking breaks for lunch of course), but I don't let myself use the other areas of our home. This helps me maintain a better balance of personal life and work.
Etsy Paper:
Do you have a day job? If so are you up all night crafting?
Abby:
What keeps me motivated at running AbbyDora Design is that my company offers paintings, prints, cards, and other paper goods for direct sale AND I also offer book design services for publishers and self-publishers. When I'm not painting, I'm still being creative by designing books. I specialize in children's book design.
Etsy Paper:
How do you get the word out about your products?
Abby:
AbbyDora Design has a Facebook page and a blog on our website:
www.abbydoradesign.com
. I also send out a newsletter every few months too to alert my clients of special upcoming events, like new art, sales, and craft shows I'll be attending. If people are interested they can head over our website to join the mailing list.
Etsy Paper:
Do you have a favorite quote to share?
Abby:
On the AbbyDora Design blog I was sharing several quotes that I found inspirational. Based on these posts, this Fall I actually started a new quotation print series called HAPPY THOUGHTS: A print collection of Visual Inspiration & Positive Intention. One of the quotes in this collection I have pinned to my bulletin board in my studio: "Creativity Takes Courage —Henri Matisse". It rings true for me.
Etsy Paper:
What have you learned the most about life from your craft?
Abby:
Art isn't linear and neither is life. Sometimes you have to back track to get to the place where you need to be and that's perfectly fine.
What a great shop to find a gift for a child in. Abby's art is original and has a classic look to it.
Until next time,
Jenni
Etsy Paper
Team Captain