This month I couldn't resist featuring a long time Etsy Paper Team member. Little did I know, the shop owner of SnowdonPrints lives a highly creative life.
Etsy Paper: Tell us a little about yourself.
Alexandra: My name is Alexandra Snowdon. I live just outside Manchester in the north of England, right next to the Peak District National Park. It's a lovely area with lots of beautiful countryside but I do enjoy having the buzz of the city close by! I live here with my husband Charlie who has his own hand printed T-Shirt business 'Chucks Original Tees'. He also sells on Etsy so it's a pretty creative household. When we're not printing and drawing we love to go hiking, biking and traveling and that's the inspiration for much of my work.
Etsy Paper:
When did you open your shop on Etsy?
Alexandra:
I opened my Etsy print shop in 2012, but I didn't actually put any products in it until 2013! I've got another shop on Etsy (https://www.etsy.com/shop/Snowdon) selling hand printed bags and cards and I had my prints in that shop at first but I knew that sooner or later I'd need to separate them out. I eventually got around to doing that in early 2013 and I have to say the print shop now gets most of my attention, that's where my heart lies.
Etsy Paper:
Tell us about your shop.
Alexandra:
I sell prints of my hand lettered and illustrated designs. I started off doing mostly screen prints but the house was bursting at the seams with mine and Charlie's screens so I decided to invest in a giclée printer. I love that it's so easy to be able to offer my designs in different sizes to suit all wall spaces and budgets and it also makes it easier to do custom orders too. I still love hand printing but I mostly save that for limited editions these days.
Etsy Paper:
When do you find/make time for your crafting?
Alexandra:
I'm lucky enough to be doing this full time and I can't tell you how happy that makes me! I was a studio based graphic designer for over 20 years and all that time I secretly yearned to be a self employed illustrator. I finally went back to uni in my late thirties to do an illustration degree, fitting it in around my graphic design job. It changed my life. Two years after graduating I was so busy selling my illustrations on prints, cards and bags that I was able to leave my job. I've never looked back.
Etsy Paper:
What do you have on while you're creating, if anything, and is it tuned to something specific?
Alexandra:
I love to listen to music while I'm creating, I find it really inspiring. I'm based in the UK and love listening to Steve Wright in the afternoon on Radio 2. I also enjoy the occasional podcast, especially from Elizabeth Gilbert (Author of Eat, Pray Love and Big Magic) she's so inspiring and Lisa Congdon, I love that she came to illustration later in life and made a huge success of it.
Etsy Paper:
Where do you go to find new ideas/products to make?
Alexandra:
I find most of my inspiration when I'm travelling and doing outdoorsy things like hiking and biking, they're my favourite things to do after drawing! I've been all over the world but I keep getting drawn back to the US. I love the big American cities and the National Parks there are just breathtaking. Charlie and I love going hiking in the US and heading off on long road trips.
Etsy Paper:
How do you get the word out about your products?
Alexandra:
I have to admit I'm a bit of a social media addict! But I think that works in my favour. When I'm working on a new design I often post 'work in progress' pics on my Facebook, Instagram, Flickr and Pinterest pages and I do the same again when I've just uploaded a new print to my Etsy shop. I really love getting feedback on my work, and I've had a lot of illustration commissions from greetings card companies and book publishers who've seen my work on social media, so I would say it definitely pays to get your work out there.
Etsy Paper:
Do you have a favorite quote to share?
Alexandra:
I do! I love inspirational quotes and they tend to feature a lot in my work. It's hard to pick a favourite but one I've always liked is 'The best way to predict your future is to create it' by Abraham Lincoln. I'm a big believer in creating your own destiny, I don't believe in fate.
Etsy Paper:
When your creativity gets blocked/clogged, what do you do or where do you go to get inspired and create again?
Alexandra:
If I'm really stuck about finding an idea or progressing one I'm already working on I find getting out of the house and doing some exercise helps. Whether it's a quick run in the nearby countryside or a trip to the gym, I always come back buzzing with endorphins and new ideas.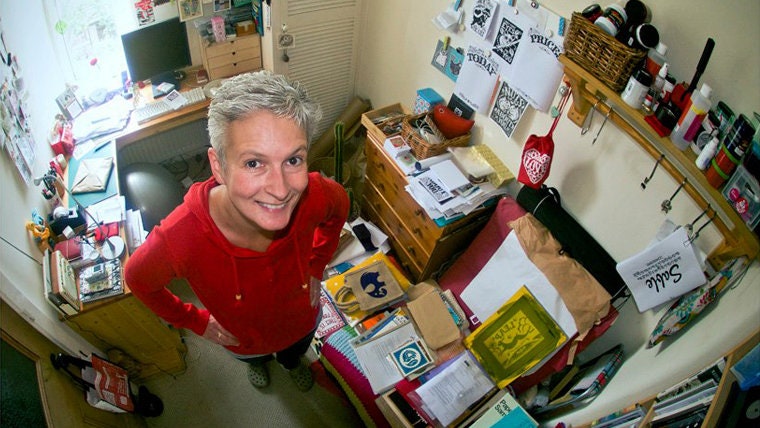 Alexandra Snowdon
Etsy Paper:
What have you learned the most about life from your craft?
Alexandra:
You get out of it what you put into it.
I leave you with that amazing statement. As an Etsy shop owner, I can testify no truer words have ever been spoken. I can also say Alexandra and Charlie would agree: A couple that crafts together, stays together.
Until next time,
Jenni
Etsy paper
Team Captain